About Richard Svoboda
Biography
Richard Svoboda has been the principal bassoonist of the Boston Symphony Orchestra and a member of the Boston Symphony Chamber Players since 1989.  He is currently on the faculties of the New England Conservatory of Music, the Tanglewood Music Center, and the Sarasota Music Festival, and has given master classes throughout the world.  Prior to his appointment to the BSO he performed for ten seasons as principal bassoonist of the Jacksonville Symphony.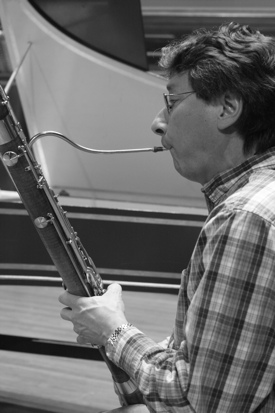 Mr. Svoboda is an active chamber music collaborator, orchestral soloist, and recitalist, and has to his credit over thirty recordings with the Boston Symphony Orchestra and Boston Symphony Chamber Players, as well as the soundtracks to Shindler's List and Saving Private Ryan.  Among his solo appearances with the Boston Symphony Orchestra have been performances of John Williams' bassoon concerto Five Sacred Trees with the composer conducting, and the Weber Concerto for Bassoon under the baton of Seiji Ozawa.  In October of 2007 he premiered Michael Gandolfi's Concerto for Bassoon, and in March of 2011, along with his eldest daughter, clarinetist Erin Svoboda, premiered Mr. Gandolfi's Concerto for Clarinet and Bassoon, both times collaborating with Yoichi Udagawa and the Melrose Symphony Orchestra.  In November of 2013 Richard Svoboda premiered Marc Neikrug's Concerto for Bassoon and Orchestra with conductor Rafael Frühbeck de Burgos and the Boston Symphony Orchestra.
Richard Svoboda's recording of Mr. Gandolfi's Concerto for Bassoon with Gil Rose and the Boston Modern Orchestra Project was a May 2013 release, and his first CD of solo bassoon repertoire, Le Phénix, 18th-Century French Music for Bassoon was released in November of 2013. Another CD of early 20th-century European music is awaiting editing.
Formal photo of Richard Svoboda by Susan Wilson. Photo of 2010 recording session by Elizabeth M. Foulser. Used with permission.